Cosmetic
Bonding is among the easiest and least expensive of cosmetic dental procedures.
The composite resin used in bonding can be shaped and polished to match the surrounding teeth.
Most often, bonding is used for cosmetic purposes:
- To improve the appearance of a discolored or chipped tooth
- To close slight spaces between teeth
- To make teeth look longer
- Or to change the shape or color of teeth
Looking for Teeth Whitening in Rocky River? Yearning for a bright youthful smile? Dr. Hunt offers a full range of cosmetic dentistry including professional teeth whitening. Teeth whitening is the #1 requested and performed cosmetic dental procedure. Teeth whitening (sometimes called teeth bleaching) is a procedure that brightens teeth and helps to remove stains and discoloration.
Throughout the day a thin coating of bio film collect on teeth, the bio film can attract stains that can be trapped in the pores of tooth's enamel.
Teeth whitening by a dental professional is key as cavities need to be treated before teeth are whitened. Cavities are problematic because whitening solution can penetrate the cavity allowing decay to reach inner areas of a tooth.
Whitening your teeth at home often involves using a custom fitted mouth guard into which a whitening solution is placed. These custom fitted mouth guards will help protect your gums from irritation that occurs while using ill-fitted over-the-counter whitening mouth pieces. After the solution is placed in the mouth guard, it is placed over the teeth for less than an hour daily over the course of two weeks. Ask Dr. Hunt if home whitening is right for you.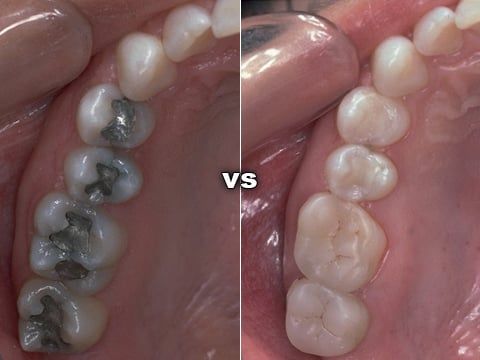 Composite fillings are today's modern filling choice. They are made to match your tooth's natural color to make them virtually invisible to notice and are placed onto the tooth by bonding the filling material to the tooth so they do not have the unlikely chance of falling off. Many patients choose to replace their old silver and gold fillings with composite fillings.
Other Benefits:
- Beautiful in appearance
- Completed in a single visit
- Form a strong seal
- Less chance of tooth cracking
What is a dental Veneer?
A veneer procedure is a popular cosmetic procedure. Porcelain is known as one of the best materials for esthetic dental procedures, because it mimics tooth enamel very closely. Veneers are extremely thin (usually less than 0.5 mm thickness), giving them an enamel-like translucence creating a natural appearance. They are about as thick as a contact lens or a fingernail. Tooth preparation requires very little tooth alteration.
Porcelain veneers are attached to your teeth using a dental bonding glue or cement. Although veneers are very thin, once bonded to your teeth they become strong. The process is fast and conservative. First, your teeth are prepared and impressions are sent to a dental laboratory along with the design for your new smile. Veneers may be recommended along with other cosmetic procedures in order to produce optimal results.
Veneer Procedure Steps:
Your teeth are cleaned so that only you natural tooth is present. Old surface restorations are removed.
In some cases the tooth is etched so the veneers will adhere.
An impression is taken of the tooth area where the veneers will go and sent to the lab for fabrication.
When the veneers are ready, your dentist will check the fit and appearance, then permanently attach them to your teeth.
After the veneer is set, it is shaped and polished to look like a natural tooth.
Veneer Procedure Benefits:
You can have your porcelain veneers and a beautiful new smile in just two office visits! 
Very little tooth alteration to your natural teeth and does not affect neighboring teeth.
Gap space between teeth can be closed without braces.
Veneers can add tooth length to worn down teeth.
Veneers can add tooth shape and thickness.
Veneers can cover broken or chipped teeth so that they look like healthy normal teeth.
Renew the color of discolored teeth.
There is no dark line at the base like you may have noticed with some dental crowns, and porcelain is stain-resistant for lasting beauty.
Porcelain Veneers vs. Lumineers
Lumineers is specific brand of porcelain veneers, which use a patented porcelain material known as Cerinate. They are even thinner than traditional veneers.
Lumineers require very little or no tooth reduction. They are a great choice if your teeth only need minor changes, or if they are set back slightly.
Traditional veneers may be a better choice if you are looking to make more dramatic changes.